As 2016 draws to a close I wanted to thank everyone I've had the opportunity to talk to this year.
I've met some great new people, been to some countries I've never visited before, had my annual trip to Australia to attend Retail Global and three trips to Las Vegas (again).
I'm truly honoured to be invited to speak at digital marketing and search conferences around the world and as you can see from the graphic, 2016 was a busy year for me on the speaking circuit.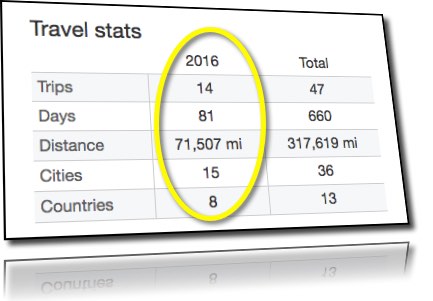 One of the shortest trips I had to make, but one of the highlights of the year happened in Manchester in June, when my friend, Richard Gregory invited me to deliver a keynote speech at SAScon.
The fabulous team at SEMRush were in the audience and streamed the event live to their Facebook page for those who couldn't make it.
As this was a morning presentation (and I am not good with mornings), there were a lot of people who were at SAScon who didn't make it either.
I blame the alcohol.
I thought I would share the video from SEMRush and upload the slides to Slideshare as most of the slides were hidden, so if you were there but didn't make it, this is what you missed.
I should point out that I was informed before I started the presentation that SAScon was the "sweariest" conference, so, I did my best to honour that tradition, so there are a few expletives in there (actually there are more than a few).
If you get offended by swearing then don't watch.
The content of the presentation walks you through the mistakes I made in spending a lot of money on media since 2000.
I introduce the concept of a unicorn keyword, share a few holiday snaps, tell a few jokes and make a few predictions for what might be important for the future.
#SAScon keynote Jim Banks talking about paid search

Posted by SEMrush on Thursday, 16 June 2016
Here's the slides from Slideshare
If you'd like to discuss how Jim can help your business or would like him to speak at your upcoming event then complete the Get In Touch button below.